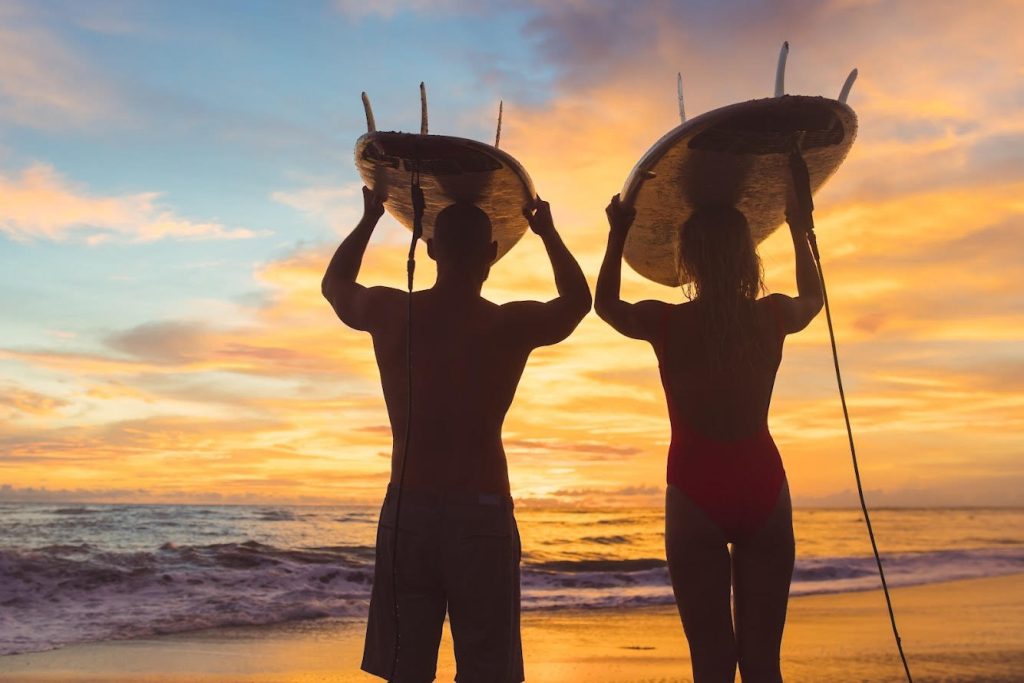 Our Favorite Things To Do in July at Guanacaste Beaches
It may be low season, but there are plenty of things to love about July in Guanacaste. Not only does the parched land of the tropical dry forest get some much needed moisture and turn everything green, but the beaches and restaurants aren't as busy as they were during the high season from December to May.
At Guanacaste beaches, we don't let a little rain get in the way of a good time. There are still plenty of things to do in the low, or green, season, especially around the Flamingo Beach area where we base our operation.

Surf Days
Everyone knows one of the best places to learn how to surf in Costa Rica is Tamarindo. With surf camps teaching lessons every day of the year, you'd be hard pressed to visit Tamarindo without catching a surfing lesson! Two surf camps can be found directly in front of the main beach break where beginners go to learn how to surf. Iguana Surf Camp and Witch's Rock Surf Camp have been around for decades, teaching thousands of wannabe surfers how to get up on the board. While you're there, don't forget to check out the "nachos as big as your ass".
For those who have already stood up on the board a few times, there's surfing at Playa Grande, located on the other side of the estuary from Tamarindo beach. When you're done catching waves, stop by Taco Star for lunch. Located right on the beach, this local staple has been serving up surfers for over a decade. If you're seeking an authentic experience, this spot is a true surfer hang out. Later, stop by Las Olas Brewing Company, located on the main road to town, for a locally made craft beer. They also serve up some fresh and unique sushi rolls, such as the "Endless Summer" for those who are familiar with the classic surfing documentary featuring Robert August, who still has a surf board design shop in the area.
Check out Taco Star and other Playa Grande restaurants HERE and Las Olas Brewing Company HERE.
Summer Camp
Got kids? There's youth camps running at the Sailing Center at Potrero Beach for the entire month of July. These camps are designed to be fun and build skills, with a variety of activities like kayaking, paddle boarding, fishing, snorkeling, and sailing. They also teach water safety, knot tying, how to rig shade on a sunny beach, and other important beach-life skills. Classes are for 5 to 14 year olds and have a maximum of 7 kids per instructor. The classes are taught mostly in English, but Spanish is also spoken.
Check out the kids camps at the Sailing Center HERE.
Kayaking & SUP
Whether you prefer to explore in the ocean or the land, Las Catalinas is full of chances for fun and adventure. There's 42 kilometers of hiking and mountain biking trails in addition to access to two beautiful beaches – Playa Danta and Playa Dantita. The protected bay of Playa Danta is ideal for kayaking and stand-up paddle boarding (SUP). Small nearby islands in the bay are a fun and easy destination, where you can watch pelicans and other sea birds at their favorite nesting site. The view from every direction of your kayak or SUP will be a sight to behold, surrounded by beautiful beaches and cliffs. There is also great snorkeling and swimming, all within paddling range. Pura Vida Ride rents out all the gear, guides, and instruction right on Danta Beach.
Check out all the things you can do at Las Catalinas HERE.
Digital Nomad
For some of us, not every day can be a vacation. We gotta work! There are plenty of great spots to sit and enjoy the Wifi, along with the view, coffee, and pastries. A new bakery in Potrero is a quiet spot for a Zoom meeting during the day. Café del Sol is three levels, featuring a café and bakery on the first floor, a terrace bar and bistro on the second floor, and a rooftop cocktail and wine bar where things get a little wild at night with hips swaying to the live dj music on the weekends. You can literally start and end your day here!
Check out the new Café del Sol HERE.
Farmer's Market
Farmer's markets are popular in the area, with Tamarindo having the largest one every Saturday from 8 a.m. to 2 p.m. by the skate park, but there are great smaller markets, or ferias, in other places, too. La Paz School holds a farmer's market every Wednesday. Located in the community of Mar Vista between Brasilito and Flamingo, this event gathers dozens of vendors each week and is open to the public from 3:30 to 5 p.m. Playas del Coco features a Sunday market throughout the year at the Garden Bar. You will find everything at the ferias from arts and crafts, to homemade food and beverages, to skincare products, and much more!
Check out the Farmers Market on Wednesdays at La Paz School HERE, Coco's HERE, and Tamarindo's HERE.
Sunset Views
For one of the best vistas in the area, you must experience Gracia Mar Vista Restaurant in the community of Mar Vista. Their infinity pool is a must-try for the most spectacular sunset view and swim up bar with custom cocktails. This is the flagship location for a growing Gracia brand in the area. Gracia La Vid is an Italian-inspired eatery and lounge located in Brasilito, and Gracia El Garden is located in an open air food court adjoining La Cerveceria Independiente (The Brewery) in Playa Potrero.